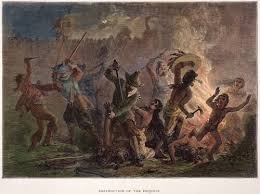 First Published in New York Times July 7, 1996
MAJ. JOHN MASON, or rather his statue, rededicated in Windsor last month, is serving to introduce a new era of peaceful co-existence between the descendants of American Indians and the descendants of the state's earliest English settlers, say state and town officials.
Representatives of Connecticut's Indian groups helped draft the wording of a new plaque for the statue that tells of Major Mason's career as a founder of Windsor, Old Saybrook and Norwich, magistrate, chief military officer, deputy governor and acting governor of the Colony of Connecticut. The statue was moved from the Groton section of Mystic "to respect a sacred site of the 1637 Pequot War."
But no representatives of Connecticut's Indian tribes were among the 150 or so people who attended the re-dedication ceremonies at the Palisado Green.
"This is not our celebration," explained Lone Wolf Jackson, an Eastern Pequot who in May 1992 began a crusade to remove the statue from Mystic, the site of a devastating surprise attack on the Pequots.
A better solution would have been placing the statue in the Mashantucket Pequot's planned museum where the Major could best be placed in the context of the Pequot War and the early history of Connecticut, said Mr. Jackson.
"I can live with this," he said of the Windsor site. But that did not mean an obligation to celebrate the event.
Marcus Mason Maronn, a descendent of the Major, said the four-year controversy regarding the fate of the statue, boiled down to respect both for the Pequots who died where the statue stood, and for the freedom of expression exercised in 1889 when the statue was originally dedicated with a plaque honoring Major Mason for overthrowing the Pequot Indians and preserving Connecticut's settlements from destruction.
In May 1995, the two-ton statue and its 43-ton pedestal was removed from the place in Mystic where it had stood since June 26, 1889. The state spent $19,425 to repair, restore and relocate the monument.
Major Mason cared for Connecticut's Indians far more than most of his contempories, said Mr. Maronn, citing his ancestor's long and close friendship with the Mohegan Sachem Uncas and the Mason family's efforts to restore dispossessed lands to the Mohegan Tribe.
Moving the statue to Windsor allowed all of Major Mason's services to the colony be placed in a fuller and better context, Mr. Maronn said.
In the end Major Mason has taught a lesson of survival, said Edward W. Sarabia, director of the State Department of Environmental Protection's office of Indian Affairs and a member of the Klamet Tribe from Alaska. "We got to get along. We got to listen to each other," he said.
But nine demonstrators at the ceremony had another message: "No Hero," said one sign; "Remember the Pequot Massacre," said another.